Original Products and Designs
If it's got the Nags Head Hammocks name on it, then rest assured, we handcrafted it ourselves, right here at our weaving workshop in our beloved home state of North Carolina. Just as we always have. Just as we always will.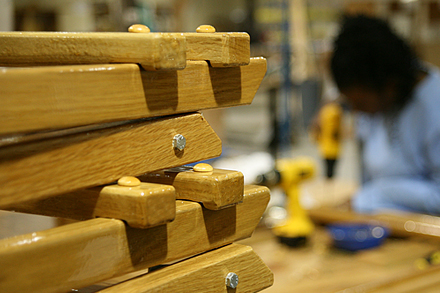 ---
Over the many years we've been at this, we've seen a number of imitators take their stabs at copying our original products and designs, but the difference in quality has always been strikingly obvious. That's because we never skimp on materials, and we never cheat on craftsmanship; every product to bear the trusted Nags Head Hammocks name is a testament to our pride in what we do.
We're still here doing what we do best because our wonderfully loyal customers appreciate the legacy of quality we bring to everything we make. We don't get to say thank you to you often enough for allowing us to continue doing what we dearly love. So thank you.
Thank you, thank you, thank you!
Some of our designs haven't changed a lick since we started out four decades ago, and for good reason! Why mess with what's right to start with? That's not to say we're closed to new designs and ideas, and new technologies and materials — our door is always open to innovations that improve our products and better serve our customers. We were the first hammock and outdoor-furniture crafter, for instance, to recognize the true potential of DURACORD® rope, introducing it not only into our line of hammocks, but into all models of our rope swings and rope furniture as well. As tough against weather as is polyester, DURACORD® is also the most colorfast rope (and fabric) material available today — not to mention it's as soft as cotton to the touch!
---
An Emphasis on Your Comfort
Our job is always to put your body at the greatest ease, because once that happens, your mind will surely follow! And when that occurs, true relaxation can't be far behind. That's why we personally test our products, to make sure they're as comfortable, and as ergonomically efficient, as possible (and, OK, also because our products are mighty fun to test!).
One of our greatest advances in durability in recent years actually produced a similar boost in comfort: The DURACORD® yarn we now use for precision-winding our top-of-the-line triple-ply rope, and that is also the basis for most of our fabric, ups the immediate comfort level of our products tremendously — as tough as DURACORD® is, it's actually as soft as cotton — all the while promoting a long life of relaxation outdoors.
---
By the Numbers
Why are Nags Head Hammocks products better than the rest? Allow us to count the reasons …
1. Rope Quality
We don't skimp on rope; we use more of it, and of higher quality, than do other hammock manufacturers. The result: a stronger, safer, better hammock, hammock-swing or hammock-style chair.
Not to mention that we use the best soft-spun polyester and DURACORD® yarn available. All of our rope is triple-ply; we precision-wind it ourselves in our North Carolina workshop, to our own industry-leading standards — our standard for rope strength, for instance, outpaces even the U.S. military's own.
2. Wood Quality
We don't skimp on our wood, either!
Cumaru, also known as Brazilian teak. We use this incredibly dense, nonabsorbent South American hardwood for nearly all of our hammock, furniture and single-swing spreader bars, because cumaru resists rotting, doesn't split after being out in the sun a long time, is unattractive to boring insects and naturally weathers to a beautiful silver-gray.
3. Hardware
Not to boast or anything, but it doesn't get any better than us! We created the industry standard for maximum-quality hardware almost 25 years ago. Our hooks and other hanging-assembly parts … the heaviest, and strongest, in our industry … are specially made out of galvanized steel or zinc-plated steel, for heightened strength, rust-protection and weatherability.
4. U.S.A. Handmade, Through and Through.
Right here in coastal North Carolina, in fact! We've crafted our superb hammocks and other outdoor furniture by hand in our home state for 40 years now, and we'd never consider doing otherwise, in order to maintain the quality and workmanship our customers have consistently shown they value as much as we do.
5. That OBX Charm
No question, there's something profoundly unique about the stretch of windswept North Carolina barrier islands we call home. Our handcrafted products were inspired with our beloved Outer Banks in mind; each carries a little of that joyful beach spirit, and all of the durability our ever-changing, rough-and-tumble OBX weather demands. So when you buy something bearing the Nags Head Hammocks name, you're getting, even beyond the quality and original design, a little piece of the Outer Banks that you can take with you back home, wherever home may happen to be.
6. Experience. Loads and Loads of Experience
After four decades of making furniture that's at home on our own wind- and storm-swept stretch of islands, we've learned a thing or two about how weathering happens. That's why we continue to put so much thought and care into our products — if it bears the Nags Head Hammocks name, then it simply has to stand up! Our signature products have made it through more than a few hurricanes, and lived to provide relaxation for many more seasons to come. We're now often handcrafting items for the children of our earliest customers — kids who grew up swinging in a Nags Head Hammock! And that's about as good as praise for what we do can get.
7. We're Our Own Customers, Too.
Those of us who work for Nags Head Hammocks own products made by Nags Head Hammocks. It isn't out of simple convenience. It isn't even due to employee discounts on our products. It's that we know quality when we see it. After all, we sell quality every single day!
8. Our Promise
Quality materials, a fundamental belief in handcrafting and decades of experience mean we not only have no trouble standing by what we make, but we do so proudly. We guarantee our hammocks, chairs and swings against defects in materials and workmanship, period. That's been our promise to you from day one. That will always be our promise.
9. You
We have more customers for life than most companies could ever possibly hope for. And why is that? The answer is as simple as Nos. 1-9!