Durawood Rockers
Let's be honest here: A standard porch rocking chair can, over not too much time, be a little tough on the ol' posterior. The narrow runners make for abrupt, jerky movement, and your backside, lightly bumping up and down on the hard wood seat, can take a bit of a paddling should you plan to keep on rockin' for long.
Well, prepare yourself for a true rocking revolution with our Durawood and Cedar Durawood outdoor rocking chairs! For starters, check out the thickness of those runners in the photos above — smoother rocking motion, here we come!
Add to that our classic Nags Head furniture feature, the lattice-like rope seat, hand-woven from your choice of two cottony-soft all-weather three-ply synthetic ropes we precision-manufacture ourselves to a strength exceeding even U.S. military specifications. Which means your tuckus is now tucked comfortably, and securely, in a rope net that cradles you even as the chair body jockeys you gently forward and back, forward and back, forward and …
Rock solid. Rock soft. Rock on, and on, and on!
Furniture Features & Benefits
Lumber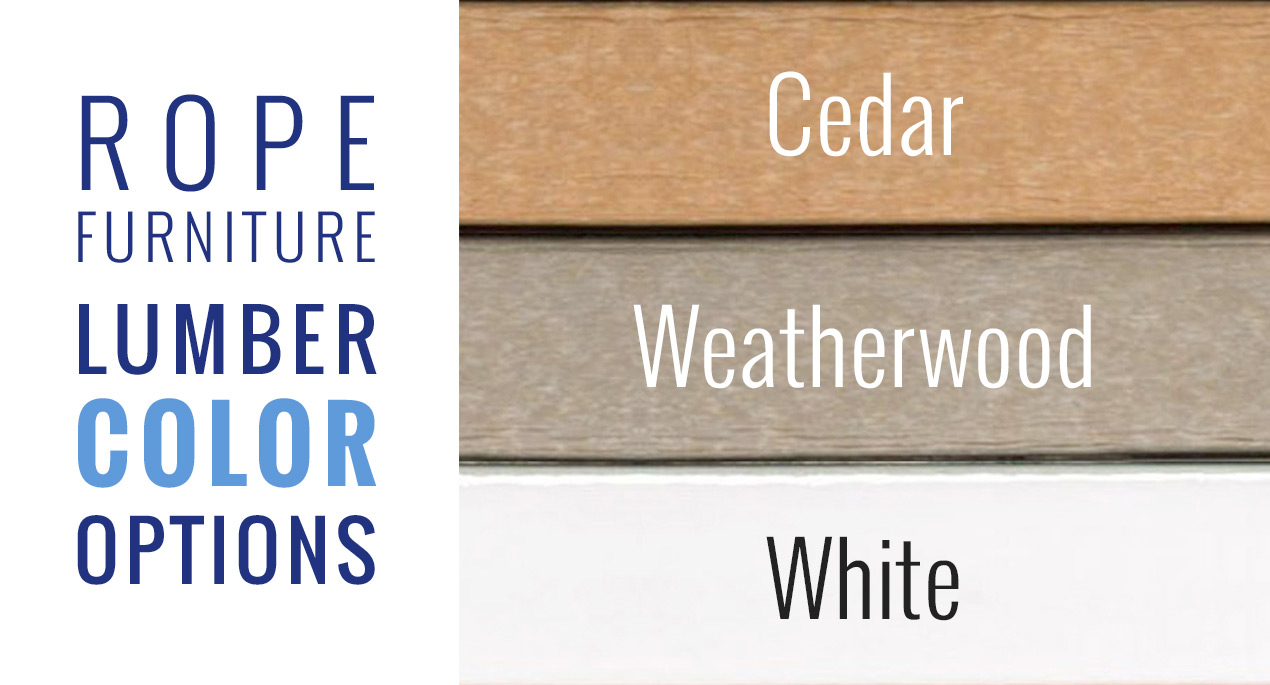 High-density polyethylene (HDPE) lumber made from recycled plastic milk jugs
Unlike most composite lumber, contains no waste-wood
Looks like painted wood, but with none of its inherent vulnerabilities to wear
Heavier and more rigid than wood, with increased stability for outdoor use
Never requires paint, stain, or sealant
Does not absorb water
Won't rot, splinter, crack, or attract termites
Holds up to rain, salt spray, extreme temperatures, and heavy wind
Easy to clean
Hardware
316 Stainless Steel, a grade much stronger than traditionally used in porch furniture
Marine-grade, holding up to harsh coastal environments
Increased rust resistance
Advanced strength at high temperatures
Technique
K Joint
Our patent-pending interlocking joint connection expanding on the strengths of standard rabbet and dado joints
Used for joints requiring the most stability/firmness
---
Dowel Joint
Precision peg-and-groove connection
Limits play at crucial connection points
---
Mortise and Tenon
Interlocking peg/hole connection used in key 90-degree board-into-board joints
One of the strongest, simplest woodworking joining techniques, dating back centuries