Holiday Shipping Schedule
For delivery by December 24, order by the following dates before 2:00pm (EST).
| State | Standard Ground | Overnight |
| --- | --- | --- |
| NC, SC, VA, MD | December 22 | December 22 |
| SC,FL, GA, AL, MS, LA, AR, TN, KY, WV, PA, NJ, MA, VT, OH, IN, MI, IL, MO, NH, CT, RI, DC, WT, ME, DE, MD | December 21 | December 21 |
| TX, OK, CO, NE, SD, ND, MN, WI, NY, ME, KS, IA, WY, NM | December 20 | December 21 |
| MT, ND, WY, UT, AZ, ID, NM, CA, NV, TX | December 19 | December 21 |
| CA, OR, WA, NV, ID, MT | December 18 | December 21 |
---
*Please call Customer Service for expedited shipping (877-401-9017).
---
Shipping times may vary due to inclement weather.
Nags Head Hammocks uses FedEx Ground, FedEx SmartPost, USPS, and UPS for shipping, doing our best to get every order out the door within 1-2 days; however, during the season items can take upwards of 3 weeks. Our Durawood Furniture and Pawleys Island Furniture are made to order and will ship within 1-3 weeks after it has been ordered. Once your order has shipped, you can use the maps below to get a better sense of how long it will take before it reaches you, or its gift destination. We also offer expedited shipping; call us at (800) 344-6433 for quotes. Please note that FedEx delivers on Saturdays but not on Mondays. So if you are in the 2-Day zone and order on a Thursday, your order will be delivered that Saturday; if you are instead in the 4-Day zone, your order will be delivered that immediately upcoming Tuesday. Last-minute shopper? Why not have us send a Nags Head Hammocks Gift Card? They're the perfect prescription for a dose of calm, to be regularly filled at leisure! We send them via FedEx Ground. For the most immediate delivery, we can even send them via email.
---
Alaska, Hawaii, U.S. Territories and International Shipping
We ship via FedEx Ground and FedEx SmartPost to the contiguous United States. For Canada-bound shipments, make sure to select option FedEx Ground to CANADA. We ship to Alaska, Hawaii, and US territories via FedEx Ground and USPS, but please note that most of our items (except hammocks and hammock stands) cannot be shipped USPS due to their size; call or email us to inquire about additional shipping costs to these locations. Customs and duties will be included with the quote provided. Also, we do not provide free shipping for replacement parts and warranty items outside the U.S. and Canada. All payments for orders shipping outside the U.S. and Canada must be made in U.S. currency, in the form of a bank check or a money order. We are unable to ship to international locations outside North America. For large orders, shipments may be sent freight via common carrier. This is to ensure that your packages ship together, and arrive together. For special requests, please call us at (800) 344-6433.
---
FedEx Ground Map Below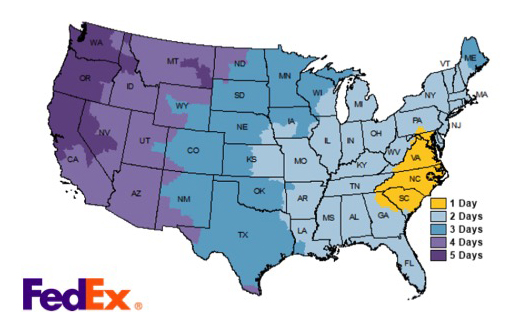 ---
FedEx SmartPost Map Below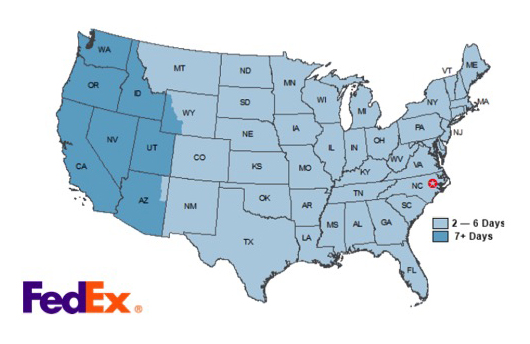 ---
Invoicing
The invoices we send with our orders don't include pricing and payment information, so giving a Nags Head Hammocks product as a gift is that much easier. Of course, if you're sending one of our items as a present to someone, it's never a bad idea to let that person know to expect a delivery!
---
Tracking your order
Once your order has shipped, you can click here to track it. If you provided us with an e-mail address, then we can also send you tracking information. Please note that some e-mail providers (such as AOL, EarthLink, and Gmail) may block incoming email from our domain name, so you may need to "instruct" your e-mail program to allow email from nagsheadhammocks.com to be able to receive order and shipping confirmation from us.
---
Damage during shipping
While we rarely see this happen, it's certainly possible for parts to get damaged during shipping. If that should occur, we'll be happy to send you a replacement as soon as possible, and we'll contact FedEx ourselves for claims and damages. We would ask that you take pictures of the damaged product(s) and packaging and email them to us at service@nagsheadhammocks.com. Please note that we can't use rush delivery to send a replacement for something damaged in shipping. We try very hard to keep our shipping costs as low as possible so we can pass those savings along to our customers.